Feel refreshed with our offered qualitative and tasty and refreshing Tea, Black Tea, Powder tea, etc., under the same roof....
About Us

Bharat Kumar Babulal Brahmkshtriya, based in Gujarat (India), is one of the largest traders and suppliers of Tea and allied products. Established since the year 2011, we have been offering pure and refreshing Black Tea, Green Tea, etc. We source these in a vast variety from professionals manufacturers and other vendors who make sure that all the products are processed in extreme hygienic conditions at their end to ensure health of the customers. Understanding the intricate demands of diversified customers, we offer a wide range of Neem Tea, Herbal Tea, Assam Tea, Century Prime Tea, Energy Tea, Flavored Tea, Ginger Tea Premix, Badam Premix, Instant Coffee and more.

Our offered tea provides you energy instantly and keep you alert. We have a chain of reliable and most trusted vendors of the market who provide us quality products at competitive prices. They are selected by our experts after evaluating them on the basis of strict parameters like goodwill, financial stability, ability to deliver bulk and urgent orders and delivery modes. Products procured from them are high in quality and hygiene. Moreover, we do qualitative and standardized packaging of this beverage in air tight bags, card board boxes, plastic tumblers of several sizes. This helps in retaining the taste and quality of the product for long time. With the help of our wide distribution network, we make timely delivery of consignments at every place across the nation.

Products We Offer

We are trading and supplying a wide variety of Tea, Coffee and their premixes. Being sourced from the most promising vendors of the market, our products are highly appreciated for their taste and refreshing nature. Some of our products are listed below:
Black Tea
Powder Tea
Green Tea

Quality-Focused Approach
We strive continuously to offer the best quality products to our customers. There are several factors like our quality-focused approach that make us a prominent business organization. We quality inspect the vendors' premises and check our procurements prior to their sourcing. Our team of quality inspectors keep a vigilant eye on quality aspects of our products and attain a trustworthy status in the market. Our entire range is highly acknowledged amongst clients for their immense taste, accurate consistency of ingredients, freshness and varying flavors to match different requirements of clients.
Packaging & Warehousing

We procure bulk quantities of Tea, Coffee and their premixes from our reliable vendors and pack these into desired quantities of our clients. Food-grade quality materials of various volumetric quantities are used by our experts to pack these products. These materials are assured to be tamper-proof for flawless deliveries to clients. Apart from this, we have a separate unit of warehousing which is categorically labeled to store our portfolio in an organized manner. This helps the storekeepers to undertake easy storing and compilation of orders for timely dispatch and deliveries to clients.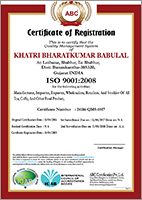 Get in touch with us